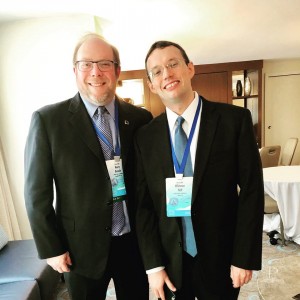 Judge Marty Barash and new Judge Whitman Holt.  This appointment is so deserved.  Whitman attended most of the cdcbaa events even though the programs had little to do with his personal practice.  He simply has a huge taste for and love of learning.   Congratulations Whit.  We are going to miss you.  Our loss is Washington's gain.
If you're not sure where Yakima is, look here.
Below is the notice from the 9th Circuit Court of Appeals.  
Ninth Circuit Court of Appeals Appoints New Bankruptcy Judge for Eastern District of Washington SAN FRANCISCO —
Whitman L. Holt has been appointed as the next judge of the U.S. Bankruptcy Court for the Eastern District of Washington.  He begins his 14-year term today, November 1, 2019, and will maintain chambers in Yakima.  His appointment was made by the judges of the U.S. Court of Appeals for the Ninth Circuit. Read more…