My wife wanted to go shopping at the Burbank Mall yesterday. I told her to have fun but that did not work.
After we worked up an appetite, we headed to the food court. While she ordered food, I headed over to Hot Dogs on a Stick. There was a moderate line, good. I was given a free hush puppy to try and when I inquired about their ice drinks, I was given a nice size sample. Delicious.
For those of you that are not familiar with Hot Dog on a Stick, here is an excerpt from the website:
An American Icon since 1946, Hot Dog on a Stick™ is an amazing company that began as the entrepreneurial dream of Dave Barham. What began as a small beachfront store in Santa Monica has grown to over 100 locations in 11 states, as well as worldwide locations in Dubai, Guam, Korea, and Brazil! And that beachfront store in Santa Monica is STILL serving our famous food and lemonade to beachgoers today!

Hot Dog on a Stick™ has stayed true to its roots by still serving our original lemonade and hot dogs on a stick, and has grown to include cheese on a stick, French fries, funnel cake sticks, and even Nathan's Famous beef hot dogs! Today's menu still offers our original delicious products, that are still made fresh, to serve our hungry, loyal customers.

Hot Dog on a Stick™ serves the finest products, with the friendliest customer service around. Our employees are known for their cheery smiles, bright uniforms, and of course, the striped hat!!
And this is what it looks like: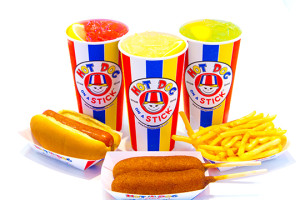 What does this have to do with anything? Hotdog on a Stick is HDOS Enterprises. It filed a voluntary Chapter 11 Bankruptcy Petition on February 3, 2014 with the Friedman Law Group serving as its general counsel and under the watchful eye of Judge Bason [bankruptcy case no. 2:14-bk-12028].
On August 11, 2014, just 189 days later, an order was entered Authorizing the Sale of Substantially all of the Debtor's Assets Free and Clear of All Liens, Claims, Encumbrances and Interests to HDOS Acquisitions, LLC; (2) Authorizing Assumption and Assignment of Unexpired Commercial Leases and Various Executory Contracts; (3) Determining the Amounts Necessary to Cure Such Unexpired Commercial Leases and Various Executory Contracts; and (4) Granting Related Relief.
The case was closed on January 8, 2015.
It took less than a year from start to finish. So what was accomplished? I spoke to Summer at the cash register. She has been with the company for over three years. She says she believes the bankruptcy improved the work environment. She mentioned when the bankruptcy was announced, there was a rush from customers who wanted to eat the food, thinking it may be their last chance. More importantly, she mentioned that the company was considering expanding into the east coast. She may be picked as one of the people who is flown over to train new employees and was generally very excited (she even did a quick twirl and yelled "New York, here I come!").
HDOS expanded too quickly into expensive leases at large malls that were opening all across the mid-west. When the Great Recession hit, it faced declining revenues but was stuck with significantly above market leases. Its landlords wouldn't negotiate because HDOS was a solvent company. Recognizing that it could not sustain itself, it filed bankruptcy. Now it's a thriving company. Bankruptcy works. 
[Note: Outside of bankruptcy, breach of these leases would have resulted in very large breach of contract judgments which would have choked the company. The bankruptcy not only demonstrated to landlords that HDOS was serious and caused many landlords to "voluntarily" renegotiate leases, it also provides a cap to the amount of damage that a landlord is entitled to and further caps that exposure because unsecured creditors don't necessarily have to be paid in full.]